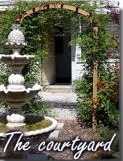 Nestled in the foothills of the Sierra Nevada Mountains, the Mother Lode Lodge is easily accessible via Highway 140 (the all year highway) and is a short 32 mile drive from the entrance to Yosemite National Park (or take the bus which picks up about twenty feet from our lobby.)

We are conveniently located adjacent to the historic, downtown section of Mariposa. Rich in history (the last gunfight took place there in the 1950's,) the historic district with its great restaurants, shops and Arts Park (where free musical entertainment is provided every Friday and Saturday throughout the summer,) is an easy stroll away.

Family owned and operated, we offer 14 units, all with full amenities. And family owned and operated means that hospitality is not just our business but our passion! You can always count on us for quiet, comfortable and clean rooms (we take pride in the cleanliness of our rooms and guarantee that you'll find no others in the area cleaner) and for friendly and courteous help with directions and suggestions of things to see and do while in the area.

We love our motel and are excited to share it with you and hope that you will feel the warmth we extend to you as our very special guests!